Dr SINGH Gill Harinder Harry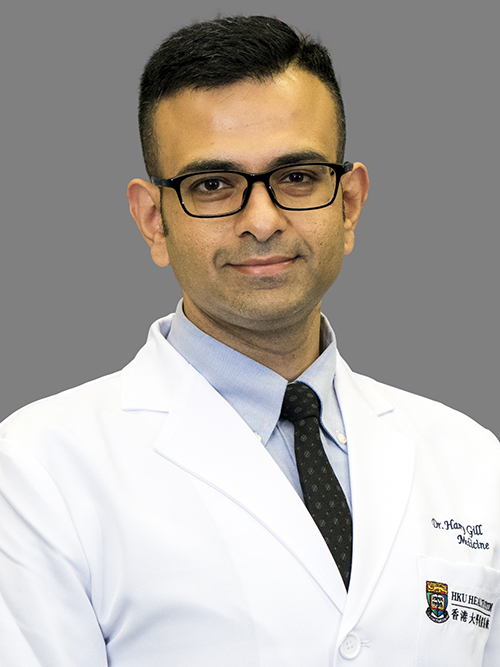 Clinical Associate Professor
MBBS (HK), PDipID (HKU), MD (HK), MRCP (UK), FRCP (Edin, Glasg, Lond), FRCPath, FHKCP, FHKAM (Medicine)
Biography
Dr. Gill Harinder Singh Harry graduated from the University of Hong Kong in 2006 and joined the Department of Medicine, Queen Mary Hospital in July 2007. He joined the University of Hong Kong as Clinical Assistant Professor in July 2014 and completed his training in Haematology and Haematological Oncology, and Advanced Internal Medicine in 2013 and 2014, respectively. He also underwent training in Haematopathology at the Department of Pathology, Queen Mary Hospital from 2017 to 2019 and was conferred Fellow of The Royal College of Pathologists in February 2019. He completed his doctorate degree in 2019 focusing on the genomics of myeloproliferative neoplasms. He has published extensively in esteemed peer-reviewed journals, including Blood, Blood Advances, Haematologica, British Journal of Haematology, Bone Marrow Transplantation, Annals of Oncology, Journal of Clinical Oncology, Cancer and Science Translational Medicine. He is the service-lead for acute myeloid leukaemia (AML), myelodysplastic syndrome (MDS) and myeloproliferative neoplasm (MPN) in Queen Mary Hospital, Hong Kong.
One of his key research areas since 2010 is the application of oral arsenic trioxide in the treatment of acute promyelocytic leukaemia (APL) and other haematological malignancies. Important practice-changing observations were made. He showed that a second complete remission rate of 100% and 10-year overall survival of more than 80% can be achieved in relapsed APL with oral arsenic trioxide-based regimen without hematopoietic stem cell transplantation (HSCT). His work on frontline oral arsenic trioxide, all-trans-retinoic acid, ascorbic acid-based induction in newly diagnosed APL has also shown 100% complete remission rate with a 5-year leukaemia-free and overall survival of 100%, showing that a universal cure is achieved with the frontline oral arsenic trioxide-based regimen in APL. This is also the first study employing arsenic trioxide in its oral formulation worldwide. In another ongoing multicentre study, a completely chemotherapy-free and oral regimen for APL is being evaluated. He steered the research and development, and the clinical use of the Good Manufacturing Practice (GMP) grade oral arsenic trioxide (Arsenol ®), the first GMP grade oral formulation of arsenic trioxide worldwide.
Dr. Gill also leads research on MDS and MPN with specific focus on molecular alterations and novel therapeutics in these disorders. He is currently leading studies on the genomics of clonal haematopoiesis, MDS, secondary AML and MPN. He is also one of the key investigators of several global phase 2 and 3 studies evaluating the use of novel targeted therapy and immunotherapy in MDS and MPN.
He is one of the founding members and directors of the Asian Myeloid Working Group leading key regional studies on myeloid malignancies in Asia including the Asian MDS Genomics Registry, the APL Asian Consortium Study and the Asian MPN Registry.
Research Profile
Acute promyelocytic leukaemia
Acute myeloid leukaemia
Myelodysplastic Syndrome
Myeloproliferative Neoplasm
Next-generation sequencing, long-read sequencing and single-cell sequencing platforms
Applications of oral arsenic trioxide
Supportive and palliative care in advanced myeloid malignancies
Selected Publications
Gill H, Yacoub A, Pettit KM, Bradley T, Gerds AT, Tatarczuch M, Shortt J, Curtin NJ, Rossetti JM, Burbury K, Mead AJ. A phase 2 study of the LSD1 inhibitor IMG-7289 (bomedemstat) for the treatment of advanced myelofibrosis. Blood. 2021;138:139.
Gill H, Yung Y, Chu HT, Au WY, Yip PK, Lee E, Yim R, Lee P, Cheuk D, Ha SY, Leung RY. Characteristics and predictors of early hospital deaths in newly diagnosed APL: a 13-year population-wide study. Blood Adv. 2021;5(14):2829-38.
Gill HS, Yim R, Kumana CR, Tse E, Kwong YL. Oral arsenic trioxide, all‐trans retinoic acid, and ascorbic acid maintenance after first complete remission in acute promyelocytic leukemia: Long‐term results and unique prognostic indicators. Cancer. 2020;126(14):3244-54.
Gill H, Yim R, Pang HH, Lee P, Chan TS, Hwang YY, Leung GM, Ip HW, Leung RY, Yip SF, Kho B. Clofarabine, cytarabine, and mitoxantrone in refractory/relapsed acute myeloid leukemia: High response rates and effective bridge to allogeneic hematopoietic stem cell transplantation. Cancer Med. 2020;9(10):3371-82.
Gill H, Kumana CR, Yim R, Hwang YY, Chan TS, Yip SF, Lee HK, Mak V, Lau JS, Chan CC, Kho B. Oral arsenic trioxide incorporation into frontline treatment with all‐trans retinoic acid and chemotherapy in newly diagnosed acute promyelocytic leukemia: A 5‐year prospective study. Cancer. 2019; 125(17): 3001-3012.
Gill H, Yim R, Lee HKK, Mak V, Lin SY, Kho B, Yip SF, Lau JSM, Li W, Ip HW, Hwang YY, Chan TSY, Tse E, Au WY, Kumana CR, Kwong YL. Long-term outcome of relapsed acute promyelocytic leukemia treated with oral arsenic trioxide-based reinduction and maintenance regimens: A 15-year prospective study. Cancer. 2018; 124 (11): 2316-2326
Lam SS, Ho ES, He BL, Wong WW, Cher CY, Ng NK, Man CH, Gill H, Cheung AM, Ip HW, So CC, Tamburini J, So CW, Ho DN, Au CH, Chan TL, Ma ES, Liang R, Kwong YL, Leung AY. Homoharringtonine (omacetaxine mepesuccinate) as an adjunct for FLT3-ITD acute myeloid leukemia. Sci Transl Med 2016; 8(359): 359ra129.
Gill H, Man CH, Ip AH, Choi WW, Chow HC, Kwong YL, Leung AY. Azacitidine as post-remission consolidation for sorafenib-induced remission of Fms-like tyrosine kinase-3 internal tandem duplication positive acute myeloid leukemia. Haematologica 2015; 100(7): e250-3.
Gill H, Au WY, Cheung WW, Kwong YL. Oral arsenic trioxide based regimen as salvage treatment for relapsed or refractory mantle cell lymphoma. Ann. Oncol. 2014; 25 (7): 1391-7
Man CH, Lam SS, Sun MK, Chow HC, Gill H, Kwong YL, Leung AY. A novel tescalcin-sodium/hydrogen exchange axis underlying sorafenib resistance in FLT3-ITD+ AML. Blood 2014; 123 (16): 2530-9.