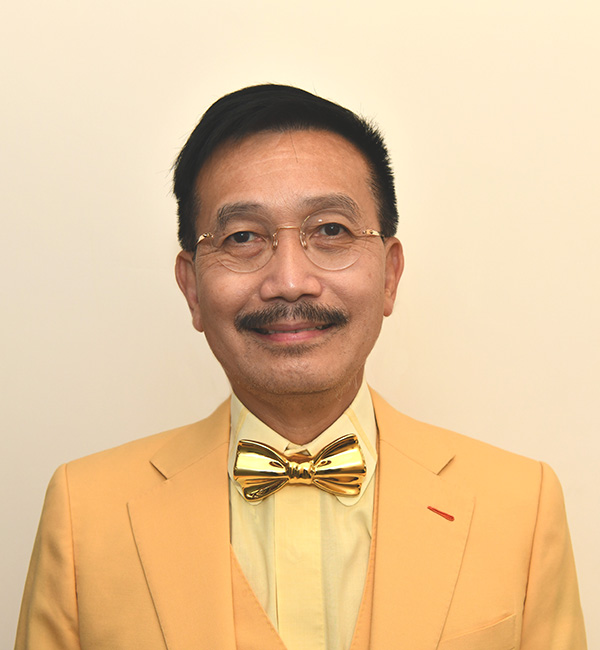 Simon K Y Lee Professor in Gastroenterology
Chair of Medicine & Hepatology
MD, FRCP (Lond), FRCP (Edin), FRCP (Glasgow), FRACP, FHKAM (Med), FHKCP
Biography
Professor Ching-Lung Lai has applied himself to further the understanding and the treatment of chronic hepatitis B and its complications for over three decades. His studies and clinical trials have contributed significantly to advance the development of knowledge concerning the hepatitis B virus. He performed the first trial of interferon alpha in hepatitis B carrier children in 1987. He was one of the pioneering investigators in the use of nucleoside analogues, including phase 2 and 3 studies of lamivudine (1998), telbivudine (2007) and entecavir (2006). The phases III trials of these three antiviral agents were all published in the New England Journal of Medicine. He was amongst the first to appreciate that nucleoside analogues have to be taken on a long-term basis for continuing viral suppression. This is based on the results on studies of the natural history of his research group: that the majority of complications of chronic hepatitis B occur after HBeAg seroconversion because of continued viral replication. He re-defined the treatment endpoints for chronic hepatitis B; these findings were first presented in the State-of-the-Art Lecture in the AASLD in 2005 where he received a prolonged standing ovation. He has been invited to write the editorial for the phase 3 study of tenofovir (2008)
He and his research group have also carried out studies on the natural history of hepatocellular carcinoma and its treatment starting from 1979 onwards, occult hepatitis B and its implications as well as the long-term follow-up of hepatitis B vaccine recipients. He is still continuing with his research on hepatitis B, notably the use of newer treatment agents such as besifovir and the effect of long-term treatment on the levels of cccDNA in the hepatocytes.
Selected Publications
Lai CL, Ahn SH, Lee KS, Um SH, Cho M, Yoon SK, Lee JW, Park NH, Kweon YO, Sohn JH, Lee J, Kim JA, Han KH, Yuen MF. Phase IIb multicentred randomised trial of besifovir (LB80380) versus entecavir in Asian patients with chronic hepatitis B. Gut. 2013 Aug 31.
Lai CL

, Wong DKH, Wong GTY, Seto WK, Fung J, Yuen MF. Rebound of HBV DNA after cessation of nucleos/tide analogues in chronic hepatitis B patients with undetectable covalently closed. JHEP Rep 2020; 2(3):100112.

Yuen MF, Lee CK, Wong DK, Fung J, Hung I, Hsu A, But DY, Cheung TK, Chan P, Yuen JC, Fung FK, Seto WK, Lin CK, Lai CL. Prevalence of occult hepatitis B infection in a highly endemic area for chronic hepatitis B: a study of a large blood donor population. Gut. 2010; 59:1389-93.
Lai CL, Yuen MF. Chronic hepatitis B - new goals, new treatment. N Engl J Med. 2008; 359:2488-91.
Lai CL, Yuen MF. The natural history and treatment of CHB: Critical evaluation of treatment criteria and endpoints. Ann Intern Med 2007; 147:58-61.
Lai CL, Gane E, Liaw YF, Hsu CW, Thongawat S, Wang YM, Chen YG, Heathcote EJ, Rasenack J, Bzowej N, Naoumov NV, DiBisceglie AM, Zeuzem S, Moon YM, Goodman Z, Chao G, Constance BF, Brown NA, for the GLOBE Study Group. Telbivudine versus lamivudine in patients with chronic hepatitis B. N Engl J Med 2007; 357:2576-88.
Lai CL, Shouval D, Lok AS, Chang TT, Cheinquer H, Goodman Z, DeHertogh D, Wilber R, Zink RC, Cross A, Colonno R, Fernandes L; BEHoLD AI463027 Study Group. Entecavir versus lamivudine for patients with HBeAg-negative chronic hepatitis B. N Engl J Med 2006; 354:1011-20.
Lai CL, Leung N, Teo EK, Tong M, Wong F, Hann H-W, Han S, Poynard T, Myers M, Chao G, Lloyd D, Brown NA, and the Telbivudine Phase II Investigator Group. A One-Year Trial of Telbivudine, Lamivudine, and the Combination in Patients with HBeAg-Positive Chronic Hepatitis B. Gastroenterology 2005; 129:528-536.
Lai CL, Ratziu V, Yuen MF, Poynard T. Viral hepatitis B. Lancet. 2003; 362:2089-94.
Lai CL, Chien RN, Leung NWY, Chang TT, Kwan R, Tai DI, Ng KY, Wu PC, Dent JC, Barber J, Stephenson SL, Gray DF, Asian Hepatitis Lamivudine Study Groups. A one year trial of lamivudine for chronic hepatitis B. N Engl J Med 1998; 339(2):61-68.
Key Offices
Chief Examiner in Medicine for the Examination in Professional Knowledge of the Licensing Examination of the Medical Council of Hong Kong. (2013-2015, 2017-2018).
Member of the Faculty Sub-committee for Appointment of Honorary Senior Teachers, Faculty of Medicine, The University of Hong Kong (2010 - 2017).
Chairman of Years 4 & 5 Coordinating Sub-committee of the Undergraduate Education Committee, Faculty of Medicine, The University of Hong Kong.
Deputy Chairman, Institutional Review Board of the University of Hong Kong/ Hospital Authority Hong Kong West Cluster (HKU/HA HKW IRB).
Chairman of the Central Committee on Liver Diseases (CCLD), Hospital Authority, Hong Kong
Member of the External Review Committee (ERC) of Hong Kong Sanatorium & Hospital (2013 -2017)
Associate Editor of Hepatology International
Member, Editorial Board of World Journal of Gastroenterology