Prof SIU Chung Wah, David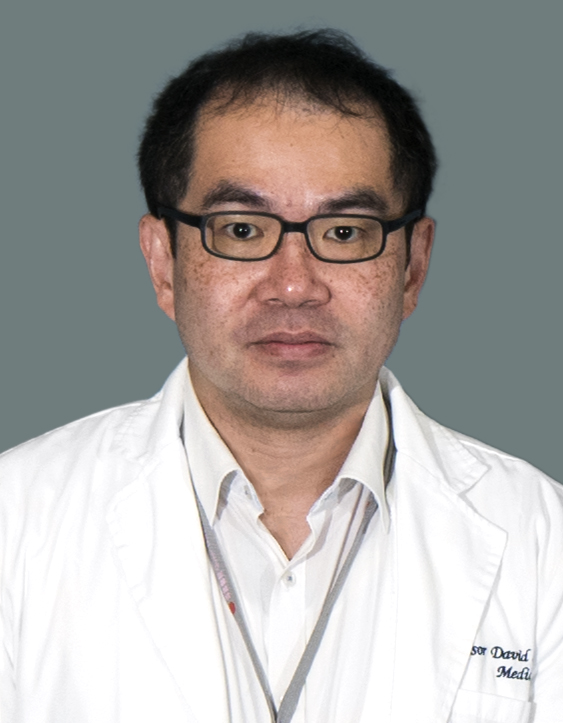 Clinical Professor
MBBS (HKU), MD (HKU), FRCP (London), FHKCP, FHKAM
Research Profile
Atrial fibrillation: Epidemiology, prognosis, clinical management
Endocrine related cardiac disease
Cardiac cellular electrophysiology
Regenerative medicine and tissue engineering
Selected Publications
Siu CW, Pong V, Ho HH, Liu S, Lau CP, Li SW, Tse HF. Are MADIT II criteria for implantable cardioverter defibrillator implantation appropriate for Chinese patients? J Cardiovasc Electrophysiol. 2010 Mar;21(3):231-5.
Siu CW, Lau CP, Lee WL, Lam KF, Tse HF. Intravenous diltiazem is superior to intravenous amiodarone or digoxin for achieving ventricular rate control in patients with acute uncomplicated atrial fibrillation. Crit Care Med. 2009 Jul;37(7):2174-9
Siu CW, Jim MH, Zhang X, Chan YH, Pong V, Kwok J, Kung AW, Lau CP, Tse HF. Comparison of atrial fibrillation recurrence rates after successful electrical cardioversion in patients with hyperthyroidism-induced versus non-hyperthyroidism-induced persistent atrial fibrillation. Am J Cardiol. 2009 Feb 15;103(4):540-3. .
Siu CW, Pong V, Zhang X, Chan YH, Jim MH, Liu S, Yiu KH, Kung AW, Lau CP, Tse HF. Risk of ischemic stroke after new-onset atrial fibrillation in patients with hyperthyroidism. Heart Rhythm. 2009 Feb;6(2):169-73.
Siu CW, Jim MH, Ho HH, Miu R, Lee SW, Lau CP, Tse HF. Transient atrial fibrillation complicating acute inferior myocardial infarction: implications for future risk of ischemic stroke. Chest. 2007 Jul;132(1):44-9.
Siu CW, Zhang XH, Yung C, Kung AW, Lau CP, Tse HF. Hemodynamic changes in hyperthyroidism-related pulmonary hypertension: a prospective echocardiographic study. J Clin Endocrinol Metab. 2007 May;92(5):1736-42.
Siu CW, Yeung CY, Lau CP, Kung AW, Tse HF. Incidence, clinical characteristics and outcome of congestive heart failure as the initial presentation in patients with primary hyperthyroidism. Heart. 2007 Apr;93(4):483-7.
Yeung CY, Lam KS, Li SW, Lam KF, Tse HF, Siu CW. Sudden cardiac death after myocardial infarction in type 2 diabetic patients with no residual myocardial ischemia. Diabetes Care. 2012 Dec;35(12):2564-9
Siu CW, Lee YK, Ho JC, Lai WH, Chan YC, Ng KM, Wong LY, Au KW, Lau YM, Zhang J, Lay KW,Colman A, Tse HF. Modeling of lamin A/C mutation premature cardiac aging using patient‐specific induced pluripotent stem cells. Aging (Albany NY). 2012 Nov;4(11):803-822.
Lee YK, Ng KM, Lai WH, Chan YC, Lau YM, Lian Q, Tse HF, Siu CW. Calcium homeostasis in human induced pluripotent stem cell-derived cardiomyocytes. Stem Cell Rev. 2011 Nov;7(4):976-86.
Ng KM, Lee YK, Lai WH, Chan YC, Fung ML, Tse HF, Siu CW. Exogenous expression of human apoA-I enhances cardiac differentiation of pluripotent stem cells. PLoS One. 2011 May 11;6(5):e19787.
Lee YK, Ng KM, Lai WH, Man C, Lieu DK, Lau CP, Tse HF, Siu CW. Ouabain facilitates cardiac differentiation of mouse embryonic stem cells through ERK1/2 pathway. Acta Pharmacol Sin. 2011 Jan;32(1):52-61.
Lai WH, Ho JC, Lee YK, Ng KM, Au KW, Chan YC, Lau CP, Tse HF, Siu CW. ROCK inhibition facilitates the generation of human-induced pluripotent stem cells in a defined, feeder-, and serum-free system. Cell Reprogram. 2010 Dec;12(6):641-53.
Lee YK, Ng KM, Chan YC, Lai WH, Au KW, Ho CY, Wong LY, Lau CP, Tse HF, Siu CW. Triiodothyronine promotes cardiac differentiation and maturation of embryonic stem cells via the classical genomic pathway. Mol Endocrinol. 2010 Sep;24(9):1728-36.
Key Offices
Council Member, Hong Kong College of Cardiology (2013-present)