Hong Kong Medical Forum
Theme: The Pursuit of Excellence in Medical Education and Practice

Dates: May 15 -16, 2021 (Saturday & Sunday)

Venue: Virtual Forum

Organized by Department of Medicine, The University of Hong Kong, Queen Mary Hospital, Hong Kong

The Hong Kong Medical Forum (HKMF) is an annual event organised by the Department of Medicine, The University of Hong Kong, Queen Mary Hospital, Hong Kong. The objective of the HKMF is for Continuing Professional Education (CPE) of different disciplines and subspecialties, through state-of-the-art lectures by local and overseas speakers who are distinguished specialists in their respective fields.

The target audience includes general practitioners, family and specialist physicians, clinicians of other specialties, basic and higher physician trainees, nurses, allied health professionals and medical students. An exhibition of medical products will be held concurrently to bridge users and the industry on the latest advances available on the market.

We look forward to bringing a worthwhile meeting for everyone to enjoy.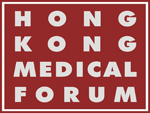 Organizing Committee
Chairman
Prof Eric Tse
Members

Dr Koon-Ho Chan
Dr Mandy Chan
Prof Ivan Hung
Dr David Lam
Dr Paul Lee
Dr Philip Li
Prof Wai-Kay Seto
Dr Desmond Yap
Dr Thomas Yau
Dr Kai-Hang Yiu
Dr Jacqueline Yuen
Ms Frances Chiu
Registration
Deadline for Early Bird Registration:
April 2, 2021 (Wednesday)
Deadline for Registration:
May 5, 2021 (Wednesday)
REGISTRATION FEE
Registration Group

Early Bird Rate
(on or before April 2, 2021)
Normal Rate
(after April 2, 2021)

Online Registration

Medical Practitioner

HKD800

HKD1,000

Nurse

HKD400

HKD500

Allied Health / Trainee / Others

HKD400

HKD500

HKUMed Student*

Free

Free
* You are required to login via HKU Portal as access is restricted to current HKUMed students only. Registration fee will be waived for Staff of the Department of Medicine, LKS Faculty of Medicine, The University of Hong Kong (inclusive of honorary staff, researchers, professors etc.). Please contact HKMF Secretariat at medconf@hku.hk for registration of other categories not included above.
Please read the Rules and Regulations carefully:
Registration Group
Medical Practitioner: general and medical practitioners, family and specialist physicians, clinicians of other specialties (inclusive of Fellows of the colleges of the Hong Kong Academy of Medicine). Trainee: basic and higher trainee doctors of one of the colleges of the Hong Kong Academy of Medicine and interns / housemen.
There is no day registration or accompanying person registration.
Registration & Payment
Registration is subject to acceptance on a first-come-first-served basis and will not be processed until full payment has been received. Please ensure that the correct amount of payment is made otherwise it will delay your registration. Please do not send cash. Reservations can only be guaranteed upon clearance of all relevant payments.
Online Payment
The HKUEMS accepts all credit card payment on-line, inclusive of those from overseas banks. Credit card information will be securely transmitted to "Joint Electronic Teller Services Ltd. (JETCO) Payment Gateway" provided by the Bank of East Asia for transaction authorisation. NO credit card information will be retained by the Event Organiser.
Entitlement
Participant will attend all scientific sessions, lunch symposium, industry exhibition and breaks. Participant will also receive program book and obtain e-Certificate of Attendance for both days, i.e. Saturday and Sunday.
Confirmation of Registration Letter
It will be issued to the e-mail provided. Check carefully all the listed items in the letter and e-mail to the Forum Secretariat for any changes.
Official Receipt
It will be issued (on request) by mail to the address supplied within one month after the Forum.
Cancellation Policy
All cancellations must be made by e-mail to the Forum Secretariat one week prior to the deadline for registration. An administrative charge of 50% will be deducted and refunds will be made within one month after the Forum. No refund will be made for cancellations after this date.
Program
Time
May 15, 2021 (Saturday)
12:30-13:30

MSD Lunch Symposium
Chairpersons: Drs Roland Leung & Thomas Yau




Immunotherapy for first-line metastatic NSCLC: combination and monotherapy
- Prof Michael Boyer (Australia)

13:30-13:40

Welcoming and Opening Remarks

Prof Chak-Sing Lau, Head, Department of Medicine, The University of Hong Kong

Mr Henry Fan, Chairman, Hospital Authority

13:40-14:10

David Todd Distinguished Lecture
Chairperson: Prof Chak-Sing Lau

Meeting the challenges of diabetes: insight from cohort studies - Prof Karen Lam

14:10 -15:40

Strategies to Optimize Metabolic Health
Chairpersons: Drs Wing-Sun Chow & Paul Lee




14:10-14:40

New era of diabetes management - the time to look beyond HbA1c
- Prof Peter Rossing (Denmark)




14:40-15:10

Update on obesity management in 2021
- Dr Michele Yuen




15:10-15:40

The novel once-weekly GLP-1 RA semaglutide: from clinical trials to real world practice
- Prof Sten Madsbad (Denmark)

15:40-16:10
16:10-16:40

Richard Yu Lecture
Chairperson: Prof Richard Yu

Viral epidemics: Hepatitis B, Hepatitis C and COVID-19 - Prof Ching-Lung Lai

16:40-18:10

New Concepts in Gastroenterology
Chairpersons: Profs Ivan Hung & Wai-Kay Seto




16:40-17:10

Management of IBS in 2021: what's new and what to do
- Prof Nicholas Talley (Australia)




17:10-17:40

Combat against colorectal cancer - 15-year experience of Taiwanese screening program and the road ahead
- Prof Han-Mo Chiu (Taiwan)




17:40-18:10

FMT: From fecal microbiota transplantation to future microbiome therapeutics
- Dr Gianluca Ianiro (Italy)
Time
May 16, 2021 (Sunday)
09:00-10:00



Clinical Pearls in Medicine
Chairperson: Prof Eric Tse

Interactive Workshop for Clinical Practices
Chairpersons: Dr Carmen Ho & Ms Frances Chiu




09:00-09:30

Dermatology essentials
- Dr Mandy Chan

Making the leap: transitioning the adolescent with congenital heart disease to adult care
- Dr Catherine Shea & Ms Mei-Yi Chau




09:30-10:00

Diabetes made easy
- Dr Paul Lee

Rheumatology nurse triage service: is rapid access possible?
- Dr Helen Tsang & Ms Gladys Kwok

10:00-10:30
10:30-11:30

Minimizing Transfusion in the Management of Anaemia
Chairpersons: Prof Eric Tse & Dr Desmond Yap




10:30-11:00

Transforming growth factor (TGF) - beta pathway as a therapeutic target for anaemia in hematological conditions
- Dr Gill Harinder Singh Harry




11:00-11:30

The Impact of HIF Inhibitors in CKD-Anemia
- Dr Robert Provenzano (USA)

11:30-12:30

Boehringer Ingelheim Lunch Symposium
Chairpersons: Prof Kathryn Tan & Dr Paul Lee




Next frontier for SGLT2 inhibitors: what's new in T2DM and beyond?
- Prof Steven Kahn (USA)

12:30-14:00

New Therapies for Treating Cardiovascular Diseases
Chairpersons: Prof Chu-Pak Lau & Dr Kai-Hang Yiu




12:30-13:00

Personalised heart failure therapy in 2021
- Prof Roy Gardner (United Kingdom)




13:00-13:30

The need for a patient-centered approach to hyperlipidemia management
- Prof Hung-Fat Tse




13:30-14:00

Ischaemic disease: the importance of choosing the right time and the right therapeutic approach
- Prof Fausto Pinto (Portugal)

14:00- 14:30
14:30-16:00

The Essentials of Immunology and Allergy in Hong Kong
Chairpersons: Drs David Lam & Philip Li




14:30-15:00

Targeted therapy and clinical experience in the treatment of severe asthma
- Dr Julie Wang




15:00-15:30

Common and rare angioedemas: make the diagnosis and save a life
- Dr Hilary Longhurst (New Zealand)




15:30-16:00

The new path to anaphylaxis in Hong Kong
- Dr Philip Li

16:00-17:00

Advances in Neurodegenerative Disorders
Chairpersons: Drs Koon-Ho Chan & Gary Lau




16:00-16:30

Atypical Alzheimer's disease: a short review
- Dr Yat-Fung Shea




16:30-17:00

Wires in the brain: deep brain stimulation for Parkinson's disease
- Dr Shirley Pang

17:00-18:00

COVID-19
Chairpersons: Profs Chak-Sing Lau & Man-Fung Yuen




17:00-17:30

Virology and diagnostics for severe acute respiratory coronavirus 2 (SARS-CoV-2)
- Prof Kwok-Yung Yuen




17:30-18:00

Treatment & vaccination for COVID-19
- Prof Ivan Hung

18:00-18:05

Closing Remarks

Prof Eric Tse, Chairman, Organising Committee, 25

th

HKMF
Last updated: May 4, 2021
Whilst every attempt has been made to ensure that all aspects of the conference announced will take place as scheduled, the Organising Committee reserves the right to make changes at anytime should the need arises.