Hong Kong Medical Forum
[POSTPONEMENT] In light of the latest development of the Novel Coronavirus (COVID-19) outbreak, we regret to inform you that the 25th Hong Kong Medical Forum wlll be postponed. We will announce the new dates later. Thank you for your support!
Theme: The Pursuit of Excellence in Medical Education and Practice
Dates: 16 -17 May 2020 (Saturday & Sunday) POSTPONED

Venue: Room N101, 1/F (New Wing), Hong Kong Convention & Exhibition Centre (HKCEC), 1 Expo Drive, Wan Chai, Hong Kong.

Organized by Department of Medicine, The University of Hong Kong, Queen Mary Hospital, Hong Kong

The Hong Kong Medical Forum (HKMF) is an annual event organised by the Department of Medicine, The University of Hong Kong, Queen Mary Hospital, Hong Kong. The objective of the HKMF is for Continuing Professional Education (CPE) of different disciplines and subspecialties, through state-of-the-art lectures by local and overseas speakers who are distinguished specialists in their respective fields.

The target audience includes general practitioners, family and specialist physicians, clinicians of other specialties, basic and higher physician trainees, nurses, allied health professionals and medical students. An exhibition of medical products will be held concurrently to bridge users and the industry on the latest advances available on the market.

We look forward to bringing a worthwhile meeting for everyone to enjoy.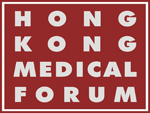 Organizing Committee
Chairman
Prof Eric Tse
Members

Dr Koon-Ho Chan
Dr Mandy Chan
Prof Ivan Hung
Dr David Lam
Dr Paul Lee
Dr Philip Li
Dr Wai-Kay Seto
Dr Desmond Yap
Dr Thomas Yau
Dr Kai-Hang Yiu
Dr Jacqueline Yuen
Ms Frances Chiu
All the latest information on this website will be updated as new information becomes available. We will continue to hold HKMF's in spring/summer each year. Thank you very much for your interest in our annual event.